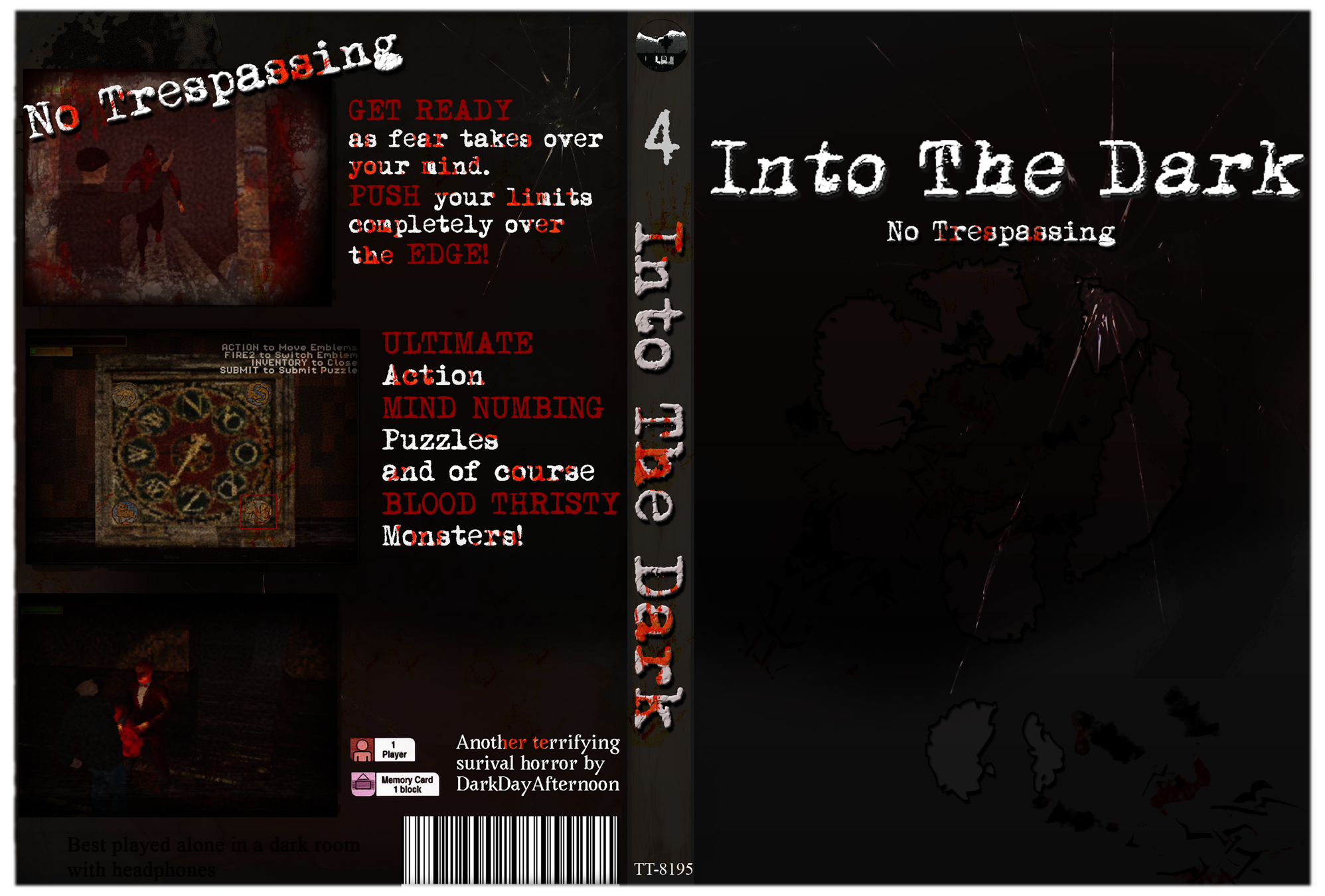 Into The Dark
A downloadable game for Windows
Into The Dark, is a third-person perspective Psychological horror/survival game inspired by games like Silent Hill and Resident Evil. It puts you in the shoes of a thief, who in hope of finding something EXTRAORDINARY enters the Quinson Villa, a place locked down, for decades, no one knows why no one knows what crawls inside, but the only thing they do know, is it hides something!

[This and All my new games, are available for free "ONLY" for the first few days for people who are unable to pay for them but like them]
Do you care to find out what that is?

Do you have the courage?
Do you have the HEART?
To handle the terror of the UNKNOWN?

CONTROLS:
'W','A','S','D' to MOVE AROUND
'MOUSE' to LOOK AROUND
'MOUSE LEFT CLICK' - ACTION
'MOUSE RIGHT CLICK' is AIM
to attack, press action while holding aim
'MOUSE MIDDLE' for INVENTORY
UPDATE v1.2:

Fixed some minor bugs.
Updated Player Skin.
----

Don't forget to tag me on Twitter @AfternoonDark with your gameplay/advice or just shoot me a simple "Hi" I'll respond, I don't have anything to do besides making games.
IF YOU HAPPEN TO FIND ANY BUGS/GLITCHES KINDLY LET ME KNOW ALSO CONSIDER RATING THE GAME IT REALLY HELPS
BEST PLAYED IN 4:3 RATIO AND ON "FANTASTIC" SETTING You can also follow me on my Twitter @AfternoonDark to follow the development of my future games and stay updated! or join my discord: discord.gg/CkQbfJxKfc

Download My Other Game:
Join Discord: discord.gg/CkQbfJxKfc
And be a part of the development of my future titles!

| | |
| --- | --- |
| Status | Released |
| Platforms | Windows |
| Rating | |
| Author | DarkDayAfternoon |
| Genre | Survival |
| Made with | Unity |
| Tags | 3D, Atmospheric, Horror, Low-poly, Mystery, PSX (PlayStation), Psychological Horror, Singleplayer, Spooky, Third Person |
| Average session | About an hour |
| Languages | English |
| Inputs | Keyboard |
| Accessibility | Subtitles, Configurable controls |
| Links | Twitter |
Install instructions
Just extract the .rar file and Launch "ITD.exe"

Comments
Log in with itch.io to leave a comment.
Will you post the game on steam ? I have my money there and really want to buy this
I loved it! And damn, I did not even send you a picture of my face, but you managed to make it look just like me regardless! :D
I liked the graphics, they are old school and effective as usual! Although I have heard that exact audio in several games now, I still find it very unsettling and good!
The camera was a little jittery at times, and I got stuck once as I had checked every drawer but the one that had a key! That is just bad luck on my part though. :)
All in all, I really enjoyed this game! Another piece of art from our main boi DarkDayAfternoon!
-BH
hello i like the game its pretty fun and love the puzzles just some bugs i found in the game im quite confuse on where to go since there are no indications on wat location is the next stopby

some bugs found
-floating papers from the ground
-idk if this is a bug but i got a key from the drawer and i tried to open the door from the enemy room and its not unlocking its right there in the video
-the drawers open and close each time i go to a room
some minor problems
-there are plenty rooms in there that idk wat their purpose is like the small library
-no indications like some dialogues from the character on telling the player when to go next
-the quit button from the inventory idk if its me but it might confuse other players if its like an exit inventory but it quit from game which might ruin their gameplay as seen on the video aswell
-save options when you die from the enemy room you return from the start its pretty annoying since they have to retry the puzzle over and over again making a save option will fix this pretty much
overall its pretty fun puzzle game and il make another part when i figured everything out so i labeled it as part 1
il tag you to twitter aswell
I can help you with the key, I encountered the same problem. The key is used for another door across the door in the starting room. There is an office there, where you will find the next clue.